When you hear a service provider request you for your feedback, they actually mean the following:
  "Your feedback is important to us. By the time it is aggregated with hundreds of others into our management report for any actionable insight, we would have forgotten who you are and what you asked for or suggested."
Any business that is looking to make informed product/service decisions needs to efficiently gather and share customer feedback. But the dilemma lies in deciding if the feedback is actionable or not.
Customer Feedback helps an organization figure out what their customers think in the following ways:
You are doing things right – you would want to continue doing these in future
Your areas of opportunities – for these you need to figure out a plan of action to get better at
Things that you are doing but your customers don't care about– you need to re-evaluate if you want to continue to offer these to all customers or maybe a specific segment
Data suggests that one customer taken well care of could be more valuable than $10,000 worth of advertising. As per a study conducted by Dimensional Research in 2013:
62% of B2B and 42% of B2C customers purchased more after a good customer service experience
66% of B2B and 52% of B2C customers stopped buying after a bad customer service interaction
The writing on the wall is clear: Customer feedback is the first step towards finding out how your customers feel about your products & services. If they are happy then the financial numbers reflect the same.
Top 5 Rules of Collecting Customer Feedback:
1. Make the customer feel important and make it clear that you want to receive their feedback
Don't assume they don't have time to give feedback. If you don't ask, they won't tell (well, mostly)
An Interesting Example from Starbucks: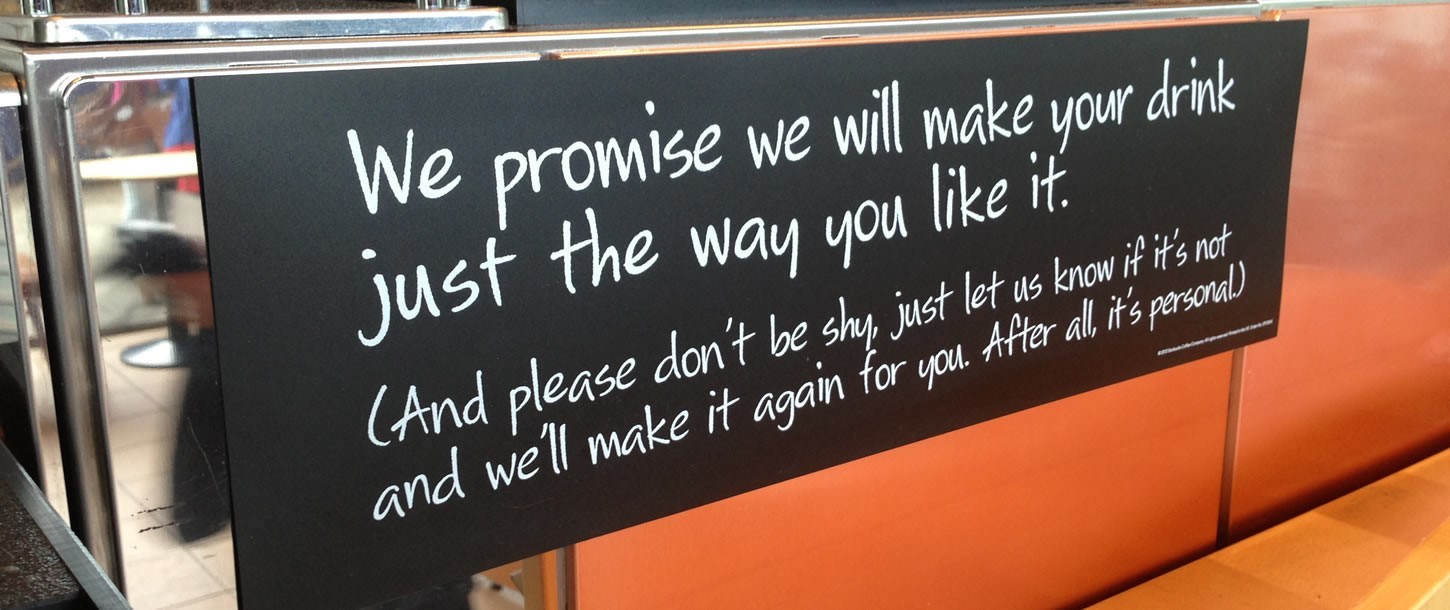 2. Make the process easy
Don't complicate or lengthen the feedback collection mechanism. No one needs 5 pages of questions to find out the customer's opinion.
3. Encourage your customers to be honest in their feedback
Make it anonymous
If your budget permits, hire a 3rd party agency to collect the feedback
Engage mystery shoppers to do the evaluation once in a while
4. Get innovative and think of ways to incentivizing customers to providing feedback.
Gift vouchers
Free delivery
Their picture on your website, on the 'Wall of Fame' page for 1 month
 Here's again another example from Starbucks: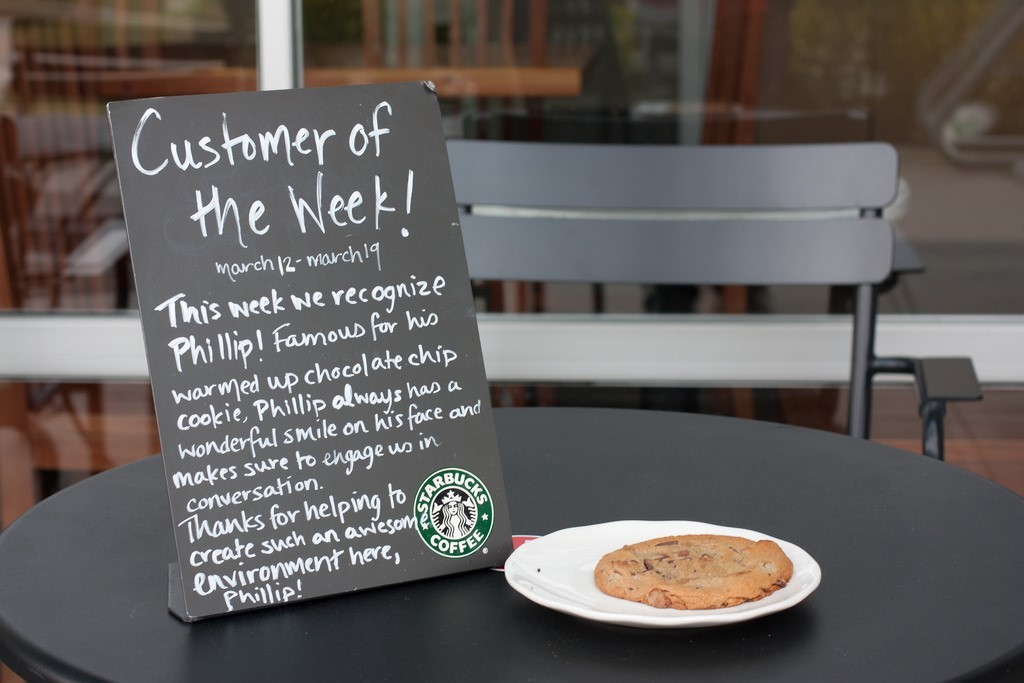 An example from Beechworth Bakery: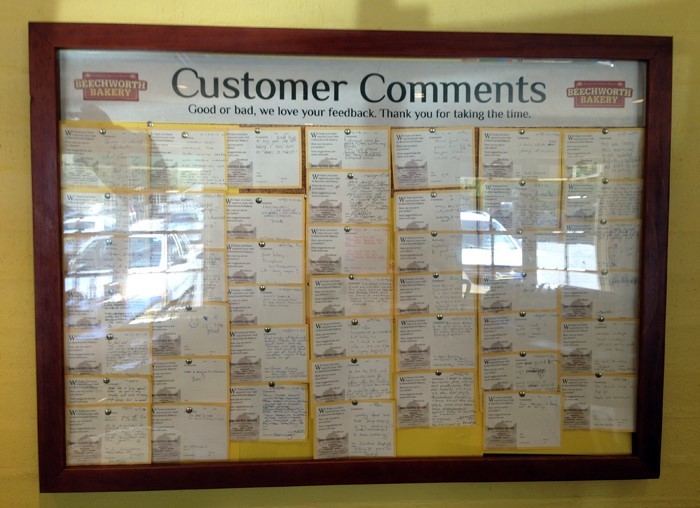 5. Create a feedback loop
Thank them for the good/bad/ugly feedback
Keep them updated with what you plan to do with the feedback
Whenever you implement their feedback (partially/fully) – inform them
Invite them next time to see if their pain-point or suggestion has been addressed/implemented
How to collect customer feedback – the easy and fast way 
Though there are different ways of collecting customer feedback, the business objective should drive the feedback mechanism selection. It is important to understand that not all feedback mechanisms have the same impact – it depends on lot of factors.
At a high level, the feedback generation mechanism ranges from Passive (on the left) to Active, as shown below: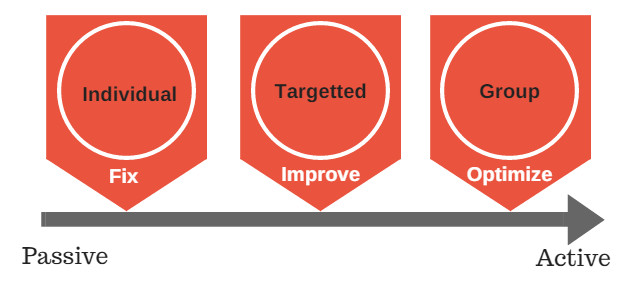 Individual Feedback is the least costly & user targeted feedback. These are more often generic in nature and based on individual experience.
Targeted Feedback generally targets a specific set of audience and is often tactical in nature. For instance, a quick survey on the 'inflight experience' for the passengers who travelled on Malaysian Airlines for the month of April 2016.
Group Feedback is based on random sampling. It is used for long term decision making.
Customer feedback can always be collected using traditional methods like Online Surveys and Customer Community Forums but given the fact that immediacy is the key, organizations can engage in just-in-time feedback collection strategy, as described below:
If you are a B2B software company or a B2B on-line company, you may want to consider using Usabilla to collect feedback
If you are an offline company (brick and mortal retail store for instance you may want to just put an iPad on the entrance/exit with a simple feedback form
A common friend recently saw this Interactive Feedback System the wash-room of Singapore airport.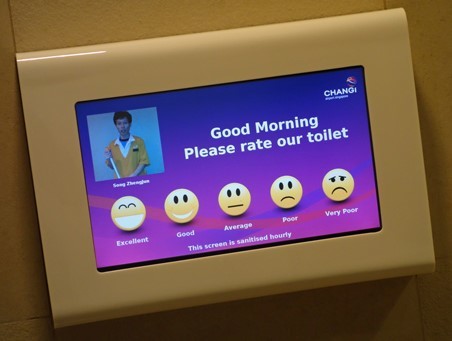 (good that they mention the touch screen is sanitized hourly!)
Wrap Up
"Your customer doesn't care how much you know until they know how much you care" – Damon Richards
The way a company designs the feedback collection process, speaks a lot about their attitude towards customers, their products and services. In today's competitive world – no business can succeed if your customers think you are indifferent towards them. It's always prudent to choose the right feedback collection strategy as it is critical to understanding what your customers think about your products and services. This helps organization to not only improve quality, but can also insights into what new products and services your customers want.
YOU MAY ALSO BE INTERESTED IN:
Our Book: Mystery to Mastery – Ideation to Productization Playbook